WELCOME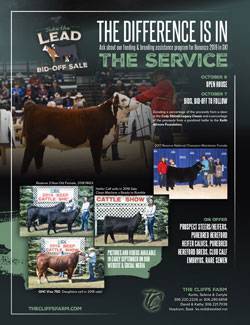 ---
Just like that summer is winding down! We are looking on the bright side around here. Calves are weaned, the Take The Lead Bid Off cattle are selected and being worked on. Please join us for our open house and Bid Off opening October 6 at the farm outside of Hepburn SK. We will have lunch, refreshment and cattle on display. Prospect Steers, Purebred Hereford Heifer Calves, a Purebred Bred Heifer and Cross Bred heifer prospects along with embryos and semen will be offered in our Take The Lead Bid Off.

It has been a dry summer again, hay is short around the country side and pastures are starting to slow down and show their thirst. We are very pleased with our calf crop this year and feel we have a strong set of heifers and great group of future herd sires. Heading into the fall we will have another show string being prepped for Agribition that will include cattle from Crittenden Brothers and Airies Acres. Find us in the Hereford barns at Agribition for a visit.

JUNIOR MEMBERS, there will be lots of emphasis with selling heifer calves over the 2018 run with Bonanza 2019 in Weyburn, SK. We offer to help any member interested with their purebred or commercial heifer purchases to get them bred, pastured and fed for Bonanza. We will prepare the heifers for the show and get them to Weyburn for you. If this interests your family please contact us for more details. We have an extremely competitive group that will show well and more importantly, we expect them all to make nice momma cows for you.

Please feel free to contact us anytime, we would love to tour you through the herd this summer and visit. All the best from the Reid's.
---


- ShowCoat Solutions has taken off in Canada. Please contact Kurtis to order yours today. Don't miss out on your opportunity to work with #BetterHair


The Cliffs Farm stands as Canada's oldest Hereford Breeders registering purebred Hereford Cattle under a single sir name since 1889. We have strived for over 123 years to raise cattle that excel in functionality and fit the demands of an ever changing consumer driven market. The Cliffs Farm has exported genetics across the globe and holds a long standing, highly respectable image within the breed. With the sixth generation of Reid's now registering Herefords, that is also a record within the breed.
Lead by David and Kurtis Reid, The Cliffs Farm has begun to expand and become prominent in the livestock showing circuit over the past 10 years. This resurgence in the farming operation is kindled by an absolute passion for the livestock industry and love for the Hereford breed, both evident in father and son. Although not the largest in terms of herd size, The Cliffs Farm prides itself in depth of quality throughout the herd, enabling a competitive edge for a small operation.
Our Main Goal is to raise quality, functional Purebred Herefords and Show Type Commercial Cattle desirable for any industry and adaptable to varying management styles.
Thank you for taking the time to look through the website and the cattle we are proud to display!
Feel free to contact us anytime.
The Reid's
David, Kathy and Kaitlyn
Kurtis and Selene
Kyle, Sarah, Stephanie, Griffin and Davis
Con and Kaitlyn Keller
JUNIORS!
we are willing to work with you on...


BREEDING - FEEDING - SELECTION - MANAGEMENT

Canadian Junior Hereford Association / 4-H members / Club Calves


The Cliffs Farm is dedicated to working with juniors to help further the Largest and Strongest Junior Breed Association in Canada and across the world. David, Kyle, Kurtis, Kaitlyn and now Griffin represent THREE generation of Canadian Junior Hereford Members within the Reid Family. David participated in the first ever Bonanza and our family have never looked back!

If a junior member purchases a heifer calf from The Cliffs Farm we are committed to helping the junior member if they so choose to grow out that female, get her ready for a show or simply keep her until she is ready to breed.  The Junior member will then have the choice of the bulls running that year at TCF to breed their female, AI requests will be discussed.
We believe that juniors are not only the future of our breed but a strong piece of the present also. They make up nearly 60% of the Canadian Hereford Association and have the largest membership of ANY junior breed association in Canada! Call for more details on our Junior Commitment.