FOR SALE

Take the Lead Bid-off Sale
Open House October 6th Noon until Dark
Bidding is open 8am on the 6th and closes 8pm on the 7th
Phone bid off to follow
Kurtis 306-280-6858 l David 306-221-7039
Cattle Available for Viewing Anytime

Females
We are very excited to offer a top group of females in our sale.  For the first time we are offering a bred heifer alongside 4 outstanding purebred show heifers and two commercial heifer prospects.  These purebred heifer calves are the first Visa 75D females available for sale in Canada and the first Clean Machine daughters we have offered.  Both have sired an outstanding set of calves. All the heifers are tie broke and great to work with.
Our purebred heifers are eligible under the CJHA Heifer Lottery for those lucky winners.
JUNIOR MEMBERS, with Bonanza 2019 in Weyburn Saskatchewan next July we will help any member interested with their purebred or commercial heifer purchases to get them bred and fed for Bonanza.  We will prepare the heifers for the show and get them to Weyburn for you.  If you are interested in the junior program, please contact us for more details.  We have a competitive group that will show well and more importantly, we expect them to make great mamma cows for you.
If you are not currently a CJHA member, we will buy your new membership with the purchase of any heifer.   
We don't raise 'show heifers,' our goal is to raise females that will work and be profitable. We show the heifers we raise. We talk a lot about cows in our foot notes.
Show Prospect Heifers
With Bonanza in our home province next year we agreed to offer the best of our Visa 75D daughters for sale.  We are confident they will make tremendous show heifers and develop into productive cows. 
We offer for your selection our four top Visa 75D daughters.
We are a family of 3 generations of CJHA members and proud that the 6th generation of Hereford breeders in our family has started his herd.  If he were a bit older, these heifers would already be Bonanza bound! Carlyle is excited to feature two of his first ever calf crop in the sale as tags 10 and 11.
Tag 8
TCF 75D Daddy's Girl 820F
THR 820F
DOB January 27, 2018
This sweet Visa daughter is out of a top Goods 305A cow!  Daddy's Girl is a great blend of style and power backed with outstanding maternal genetics. You will travel a lot of miles to find one this extended through her front third, bold ribbed, sound structured and with the right amount of muscle. Her mother was Lloydminster Stockade Lady Hereford Champion and first in class at CWA. Going back to 63U, a cow that has had much influence on our breeding program. After much debate, it was agreed this heifer could leave the farm; we are excited about her future!
This sale will be donating a percentage of the proceeds of this heifer to the Keith Gilmour Foundation as part of their lot 18 in '18, we will use lot 8 as we don't have 18!

Tag 9
TCF W 75D Miss Platinum 817F
THR 817F
DOB January 17, 2018
Talk about a genetic package, Visa x GHC 161T!  817F is dark red, long bodied with loads of hair. From the side she is ideal in her hip and hind leg and we feel has the pedigree to work year after year. Her mother was the lead off cow in the Crittenden Brothers mature cowherd dispersal and she is as consistent as it comes with heifers leading off or topping every TTL sale.  We have two daughters working in the herd with fantastic udders and top end bull calves.

Tag 10
TCF 75D Calla 830F
CTHR 830F
DOB March 14, 2018
The youngest purebred calf on the farm and Carlyle knew she would be a hit.  Just a mid-March with eye appeal, balance and extra bone.  Her extra pigment and effortless stride attract everyone's attention.  Calla has been a pick of all the "Reid generations" at the farm since she was born. With this birth date she will get an awesome class split! This is why we purchased Visa, to producer calves like this off our Goods daughters.

Tag 11
TCF 75D Teal 809F
CTHR 809F
DOB January 11, 2018
When Carlyle helped us select our new herd sire Visa 75D, he never thought his herd would explode with such outstanding calves.  Teal's mother, 92Z, was our pick from the Twin View sale and has not disappointed.  If you are looking for udder quality, performance and a personality any junior will love to work with she is your gal. Broody, cow power, maternal… you get the idea.
Bred Heifer
Tag 12
TCF 305A Good Lady 707E
THR 707E
DOB January 12, 2017
Good Lady is the first bred Goods daughter we have offered for sale.  She is well-balanced and loaded with broodiness.  With lots of pigment and great udders the Goods 305A daughters are quickly rising to the top.  A bull's legacy is not his show ring history, it is his daughters. We are just fortunate that the Goods did it all. We are retaining her full sister, mother to our March sale heifer 830E. 707E's pregnancy is one you will see numerous times in our yard and also in our sale last year, B52 x Goods 305A.
She sells observed bred to Loewen GHC 33T Axiom B52 on March 30, 2018.  Preg checked safe. 
Commercial heifer prospects
Both heifers are sired by Clean Machine and out of Hereford and/or Maine influenced cows. Both heifers will be eligible for Bonanza 2019.
Tag 14
Clean Machine x Dianna 12D (Maine/Hereford)
DOB January 21, 2018
A sweet heart black baldy off Clean Machine.
Tag 14 is built like a show heifer. Great necked, extra feminine and well balanced with the added rib and muscle shape to compete. Plus coming out of our "16" cow family backs her with some proven genetics. Her mother Dianna 12D was Res Junior Champion Maintainer Female CWA 2017. She was shown with her mother this summer: Champion Female Kennedy 4-H, Res Champ Commercial Two Year old – Prince Albert Ex

Tag 15
DOB January 17, 2018
Clean Machine x Hereford/Red Angus
Loaded with hair, hip and style.  Tag 15 will power up with any breed heifer, has the look and presence to stand out plus her extra bone and extension we are looking for in cross-bred females.  Clean Machine is getting it done making the right kind North and South of the boarder. This heifer is also from our "16" cow family, they just don't miss. We never sold a direct 16 daughter for a reason.
Steers
We are very pleased with the group of steers this year. They have all taken to feed extremely well, are tie broke, have been washed several times and are nice to work with. If you wish to know more details on each calf above the footnotes please don't hesitate to contact us. We want kids to enjoy their steers and have a positive experience. Each calf we are confident will feed well and Kurtis is more than happy to assist in ration development for the calves, heck it is his day job. Steers only have the potential they are fed and worked to, we are 100% willing to work with families through this process and share our experience.
Tag 1
March 22, 2018
General Lee X Simmental/Angus
This guy is Tag 1 for a reason. Look, shape and power all blended into an extremely competitive red steer. Nice fronted, big bellied and he has that extra pop of muscle to excel. Bred by Cody Reid this guy is neat. A touch greener with a later weaning date but I see a big future for this calf with a family that wants to compete at the top end. PLUS he is very gentle an easy to work with.

Tag 2
Jan 16, 2018
One in the Chamber X Charolais
Man oh man. This dude is power, extension and moves like a cat. Champion steers don't come out of class one or two, this guy will be prime for those heavier classes. With his combination of muscle, power and mobility he will be fun. Silver and white, Kody Meier spoilt the heck out of him and coming into his hair for winter, yes sir.

Tag 3
April 12, 2018
Clean Machine X Halls 807 (DeBull/Galloway)
Long necked, smooth shouldered but opens into a bold fore rib, big top and a big ole hip. This black, white belted steer is much younger than the others but really coming into his own. He struts the pen with confidence and presence. Big time hair and potential. Don't be afraid to stand out because you can talk some smack when your calf can back it up.

Tag 4
January 4, 2018
Monopoly x Char/Hereford
An extra hairy, extra easy feeding type of steer. He has some size and punch to push into heavier weight division and the bigger payday! Good natured, soggy middle and he has more than enough width to out muscle your competition. His mother raised Cody Sibbald's many time champion.
This sale will be donating a percentage of the proceeds of this steer to the Cody Sibbald Legacy Classic.

Tag 6
February 12, 2018
Hereford (Cannon) x Hereford (Foundation)
This is an ultra competitive Hereford steer. He will run with anything. He is an extra rib long, monster topped and has as much width of stifle as any. Plus he is really cleaned fronted, great haired and attractive. American friends, he can be fully registered. It goes without saying this guy will stand out and feed like a dream.

Tag 7
Jan 26, 2018
Hereford (B52) x Unstoppable/Black Jade
Black baldy, check. Sound with enough growth, check. Does he fit the first priority of muscle, check. Tag 7 gets better every day he is on feed. Great to work with, we like his build and visualize a very competitive calf come Regional Show date. Don't miss this one.
Genetic Lots
Tag 16
Curly Jane (Unstoppable/Hereford) x Dakota Gold Embryos, Three (3) Embryos
Again we offer up eggs off our Curly Jane donor. The bidder last year seems to have forgot to pay for just about 365 days so we will offer this mating of endless potential again. We are expecting 2-3 full sibs in 2019. Curly Jane is the perfect combination of practicality and show cattle. A National Champion Maintainer that has a beautiful udder and a ton of milk, plus she is so easy doing and sound. The type of cow that when seen is real life is just damn impressive.
*Embryos are fully exportable, Stored at Sundowner Livestock all shipping costs responsible by purchaser.

Tag 17
Halls 807 (DeBull/Galloway) x Italian Stallion, Three (3) Embryos
These are full sib embryos to Ashtyn Danker's 2017 many, many, many time champion market heifer. Study the pictures of that heifer; I don't have to say much. Her Clean Machine steer sells as lot 3. Raise your own high selling, power showing calf with these eggs.
*Embryos are fully exportable, Stored at Sundowner Livestock all shipping costs responsible by purchaser.

Tag 18
Black Jade 412R x Man Among Boys, Three (3) or Five (5) Embryos
The backbone of our club calf and crossbred program. We have five daughters in production, a grand daughter and great granddaughter plus another replacement female in the pen. Legacy, that is what 412 meant to us. Black Jade 412 embryos are a fantastic opportunity and have produced high sellers for Rocky Coulee, Regan Schlacter and us. We look forward to her embryo calves in 2019.
*Embryos are fully exportable, Stored at Sundowner Livestock all shipping costs responsible by purchaser.

Tag 19
TH 71U 719T Mr Hereford 11X, Two (2) Units

Tag 20
CRR About Time 743, Two (2) Units

Tag 21
SHF Wonder M326 W18, Two (2) Units

Tag 22
Man Among Boys (MAB), Two (2) Units
---
Take the Lead Phone Bid-off Sale
October 7 & 8 2017
Hepburn SK
Kurtis 306-220-2226
David 306-221-7039
Selene 306-531-3663




Lot 1 - Steer
Sire: Chopping Wood
Dam: Red Angus Cross
Birthdate: February 5
A powerhouse lover 's dream. Extra stout, extra sound, Big legged and big middled. Ya don't eat the tail and he does not need it to balance he is so well made. This calf has excelled from the get go and is ready to win now and down the stretch. Easy feeding type everyone loves and colour is winning bigtime. Raised by Chad Haaland.


Lot 2 - Steer
Sire: General Lee
Dam: Sim/Angus
Birthdate: March 28
This calf is WICKED! Great necked, smooth shouldered, bold ribbed, plus he has the top and hip to win. His hip and hind leg structure are impeccable, he just has the look. If you want to make a splash with an extremely competitive steer, look no further. This General Lee has the potential to be BIG TIME. Raised by Rodney Reid.

Lot 3 - Steer
Sire: Monopoly
Dam: Hall's 807 (De Bull)
Birthdate: February 5
Talk about a great look and presence form the side to stand out. This Monopoly off our 807 donor keeps getting better every day. Long necked, clean chested with enough shape from behind to be tough. Keep him on feed and his potential with surpass expectations. Maternal sib to Danker Market Heifer. Owned with the Paul's.


Lot 4 - Steer
Sire: Italian Stallion
Dam: 89 (Char/Hereford)
Birthdate: January 1
- Big red is a stout sucker! He is a maternal brother to Sibbald's many time champion in 2015 and a class winner at Saskatoon 4H Regional 2017 for Alex Dickinson. Red is monster topped and will out muscle the competition. I also really like that for a red coloured steer he has big hair.

Lot 5 - Steer
Sire: Red Angus
Dam: Curly Jane (Unstoppable)
Birthdate: March 3
This steer is off our Curly Jane donor. Really sound, has that super easy feeding build combined with a great look and hair. He has been on his mother all summer at Dr. Millers being flushed so he did not quite get the TLC. Good fronted with muscle and bone, the future is bright for this calf. Thank you to Chase and Alana for doing up his picture and video.


Lot 6 - Steer
Sire: Hereford
Dam: Jade Carpe Diem
Birthdate: February 24
An extremely gentle and easy to handle calf that will work for any aged show person. He is a Hereford cross and will do great on feed. We like the muscle shape in this calf and as he matures he will become that much stouter. He will turn some heads come 4H time.

Lot 7- Purebred Hereford Heifer Calf
Sire: Lowen GHC 33T Axiom B52 ET (Okie)
Dam: TCF 305A Gloria 512C (TCF JVJ 11X The Goods 305A)
Birthdate: January 2
Our lead off Purebred heifer calf. Our first offering off our calving ease specialist Okie and a leading Goods Daughter from our most prolific cow family. A real sweet made heifer that has such a beautiful sweep of rib and added depth back through her rear rib and flank. She exemplifies cow power. Her mother's udder is fantastic; we always expect great things from a Gloria Daughter.
*We are retaining the show rights on this female to campaign beside her mother this fall.

Lot 8- Purebred Hereford Heifer Calf
Sire: TCF JVJ 11X The Goods 305A
Dam: GHC Miss Susie 161T (PCA Vic's Safari 12K 12M)
Birthdate: January 22
A full sister to a high seller from last year's sale off our 161T donor. This heifer calf has a little extra jam compared to her full sister. Very smooth made, high capacity type of female with enough look that people will need to stop and analyze. Goods daughters are making big time cows. It's not often herd sire can have such success in the ring, longevity out breeding and then blow the competition out of the water producing consistent offspring. The Goods also has been recognized as CHA Gold Trophy sire, the only one of the 2016 Agribition Senior bulls to do so, heck he may be the only "A" sire also. Proof is in the pudding as they say. Owned with the Wiebe's.

Lot 9- Purebred Hereford Heifer Calf
Sire: TCF JVJ 11X The Goods 305A
Dam: TGK 131S Yolande 3Y (GHC Volume II 131S)
Birthdate: February 3
If you are looking for a heifer out of a long time established cow family pay attention. We took on the 8T cow family from Wayne and Linda Spence for this very reason, CONSISTENCY. This dark red Goods daughter is eye appealing, long bodied and ready to impress as she matures. Structurally fault free with muscle. If they don't have top and hip in a female how are they going to raise profitable offspring? Owned with Wayne and Linda Spence.

Lot 10- Heifer Calf
Sire: Monopoly
Dam: Wheatland 38N (Teddy 131L)
Birthdate: January 15
This is a breeding piece and bloodlines that you just can't find on a consistent basis. ET Full sister to the 2013 Stampede JR Steer Show Champion for Chase Miller. This Monopoly is off a Teddy 131L cow that was consistently producing high caliber offspring. Solid red, great look and substance. This heifer will compete at the top end of the class and make you money for years to come. Owned with Wheatland Cattle Co. TH/PHA Test Pending.

Lot 11- Heifer Calf
Sire: Dakota Gold
Dam: Womanizer/Maine
Birthdate: January 20
Flashy black baldy with all the right pieces. This girl is going to be a big time momma cow! Extended through her front third with shape and muscle to back it up. Her mother is a top cow for the Clemence Family, the expect nothing less for this female. A performance heifer that will get it done and be versatile in breeding options. Raised by Clemence. TH/PHA test pending. Video in comments.

Lot 12- Embryo Package
Sire: Italian Stallion
Dam: Hall's 807
- Full sib embryos to Ashtyn Dankers many, many, many time champion Market heifer. The heifer never stood lower than Grand or Reserve Grand Market heifer.

International Export eligible

Lot 13- Embryo Package
Sire: Dakota Gold
Dam: Curley Jane
We cannot wait for this mating to hit the ground. One of the most dominant Maintainer females to be shown through 2014/2015. Dakota Gold is going to hit a home run with Curly Jane. With a great udder, structural longevity and that high quality, easy keeping look this is the type of cow we will continue to build around.

International Export eligible

Lot 14- Embryo Package
Sire: MAB
Dam: Black Jade 412
Black Jade 412 has been a no miss cow for us. As good as you can make em is how I describe this matron, truly the backbone of our show calf breeding program. 3 milking daughters/granddaughters, 2 bred replacement heifers, a natural replacement heifer and a great granddaughter weaned and in the show string. Also a full sib to this mating was one of Rocky Coulee Ranch's high selling females last year. She flushed 10 embryos this spring. Longevity, Maternal Powerhouse, Fertility.

Lot 15- Semen
Monopoly Original Semen, enough said.

Lot 16- Semen
MAB Original Semen. This is getting harder and harder to find in Canada.

Lot 17- Semen
CRR About Time Semen. If you want that show quality offspring this stuff works. Hard to find in Canada.

2016/2017 Private Treaty Bulls

TCF 8Z Sure Bet 617D

TCF 305A Bank It 621D


Another great flush on a foundation cow.
Call for details, one package of Monopoly embryos still available.
This is a don't miss cow that will build your program too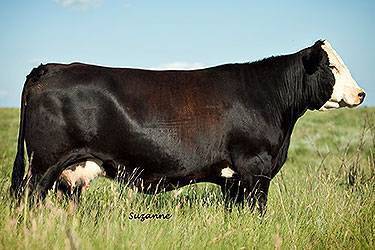 BLACK JADE 412
| | | |
| --- | --- | --- |
| | | |
| Monopoly | | Man Amongst Boys |